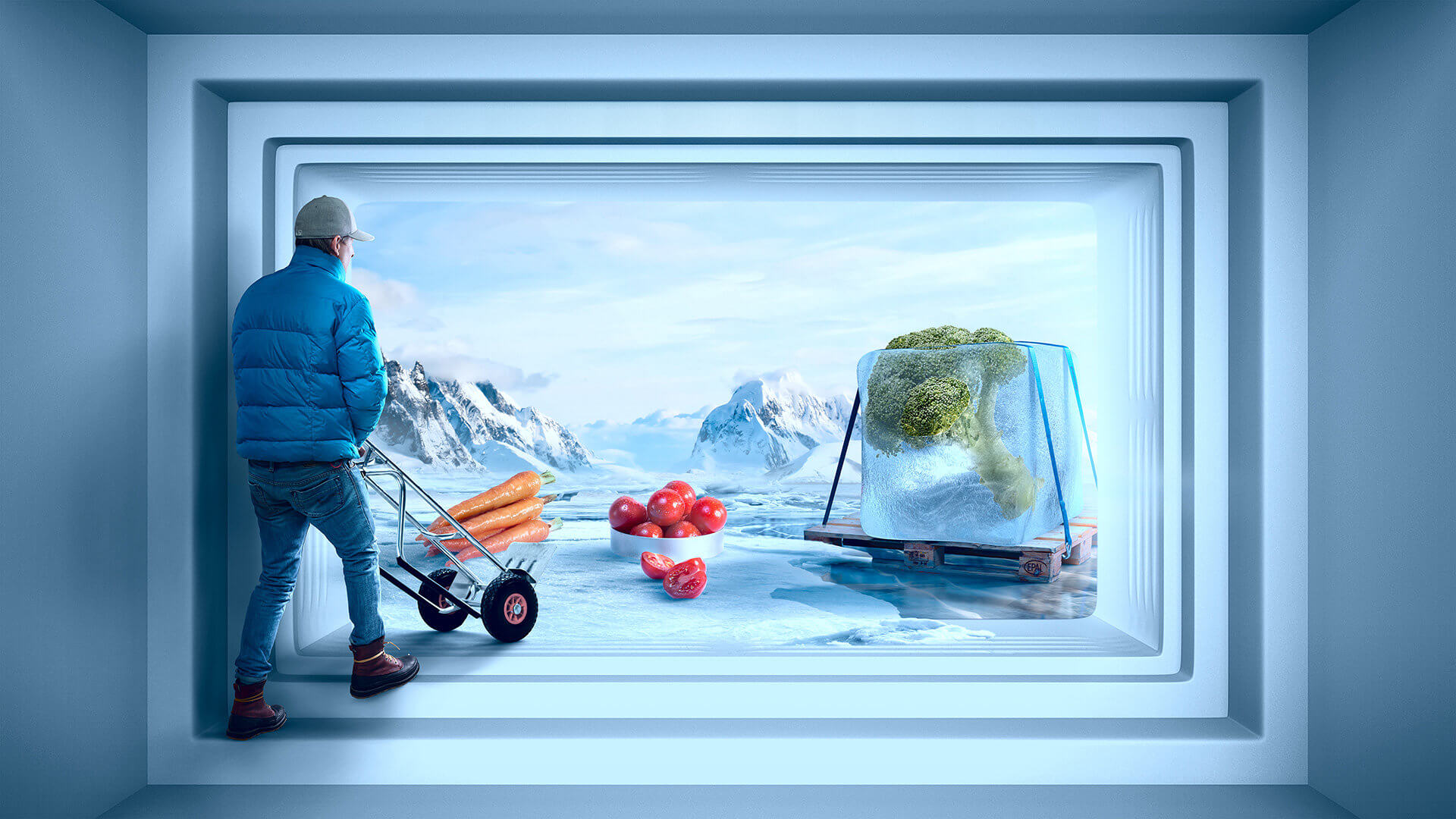 Transportation
TKL Transcare
Reliably well-chilled:
refrigerated & deep frozen goods transportation
Whether you require partial or complete storage, general or detailed distribution services – TKL with its Transcare brand is the competent partner for the transportation of fresh and frozen foods. Our spatially comprehensive services in the sector of distribution logistics make us Austria's No. 1 in the segment of temperature-controlled transportation.
Multi-temperature food transportation
Our advanced trucks provide two controlled temperature zones: for deep frozen and refrigerated fresh goods (1–4 degrees Celsius). A movable partition in between these two zones enables us to utilize our trucks' full capacities and to supply our customers with both, deep frozen and fresh foods. We continuously modernize our fleet of refrigerated vehicles and frozen cargo trucks.
Cross-docking & transshipment
Our service range also includes cross-docking. Using our advanced refrigerated vehicles or frozen cargo trucks, we either take your pre-packed goods right to your customers or we pack your products at one of our goods distribution centers first and then to your customers' sites. Your advantages are obvious: processing times are reduced and warehousing costs are minimized.
Refrigerated vehicles and frozen cargo trucks for general and detailed distribution
Owning 70 semitrailers and 180 delivery vehicles providing several temperature-zones, we are your competent partner for the transportation of deep frozen, refrigerated and fresh products. Highest quality standards (IFS-certification) and digital temperature-monitoring ensure we ship your foodstuffs safely and at the right temperature.
Elaborate route planning provides for itineraries and best truck capacity utilization and thus reduces transshipments to the extent possible. Moreover, trucks that are in duty 24/7 provide for more efficiency: general distribution at night and detailed distribution during the daytime. Modern refrigerated vehicles and frozen cargo trucks ensure an uninterrupted cold chain.
Partial or full loads, individual transport solutions
Being an expert for temperature-controlled national and international transport services, we do of course also offer full loads. I.e., our trucks' capacities are fully utilized: we pick up the respective consignments at your site and take them directly to your customer or to one of our goods distribution centers or cold stores. However, our dense transport network of more than 7,000 delivery points also allows us to offer partial load services at best cost- and time-related conditions. Of course, we do guarantee for on-time delivery and digital temperature-monitoring for an uninterrupted cold chain.
Spatially comprehensive, efficient, flexible and sustainable
We are aware of the responsibilities we have towards our customers and the environment. That's why we use our best efforts every day to take the foodstuffs entrusted to us to their destination as efficiently and sustainably as possible. Our logistics planning ensure shortest distances and best utilization of truck capacities, and a dense network of bases and locations does not only facilitate an excellent price-performance ratio but also utmost efficiency. Every mile that is not driven helps our customers to save money and protect the environment. Our vehicles providing various temperature zones also significantly contribute to protecting the environment as they allow for transporting deep frozen and fresh foods in one truck and at the same time.